Spectacular Spartan Pizza worth trip to McFarland
SAMARA KALK DERBY - The Wisconsin State Journal
Wednesday, February 24, 2010 5:00 am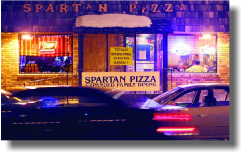 McFARLAND — My two closest friends, both Milwaukee natives, are devotees of Dom & Phil DeMarinis' crispy, thin-crust pizzas, and we've gone on pilgrimages to their old south-side neighborhood to indulge in some delicious pies.
Now they've discovered Spartan Pizza here and claim it's as close as they've come to their beloved DeMarinis. And I have to agree, it is spectacular pizza.
"Wow, is this good," said my friend on a recent trip to McFarland, a southeast Madison suburb. "This is a pizza made with tender, loving care. It's not your typical modern-day assembly-line pizza."
Dale and Linda Borchardt opened Spartan Pizza 35 years ago and their daughter, Shena Borchardt, works as its main waitress.
There are a few combination pizzas, including cheese & hamburger, cheese & shrimp and Mexican. Sauerkraut turns up as a topping, which was intriguing, but instead we opted for a large (16-inch) Spartan deluxe ($21) without the pepperoni. It had mushrooms, black and green olives, onions, green peppers and huge chunks of excellent sausage, which Shena told us is made specifically for the restaurant.
The kitchen didn't skimp on cheese, which was high-quality and flavorful. Like DeMarinis, the crust was cracker-thin and crisp. I didn't get a good sense for the tomato sauce since it was dominated by other ingredients.
The pizza was cut into squares, not slices. Customers eat pizza on small paper plates and sandwiches from baskets.
We ordered a small (7-inch) cheese pizza ($5.50) for my 4-year-old daughter, but she seemed to prefer the cheese bread (three slices for $3.75), which was crisp and buttery and absolutely delicious.
A half-order of the wonderful pizza salad ($5.25) was so big it made me curious to see what the full salad looks like. Similar to the deluxe pizza, it featured lettuce, tomatoes, mozzarella cheese, a generous helping of pepperoni, mushrooms, black olives, onions and green peppers.
My daughter was delighted to discover that Spartan serves the Chocolate Shoppe's Blue Moon ice cream ($2.50 for a cone or a dish) among the five flavors it carries. She also perked up to see the cherry sucker that was delivered with our bill.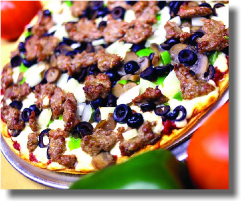 High on Spartan Pizza, I returned the next day to try a burger, which Shena told us is baked in the pizza oven. The quarter-pound cheeseburger deluxe ($5) — there's also a half-pound one for two bucks more — comes with lettuce, tomato and onions (grilled or raw) and was served on a sturdy, delicious roll.
It came stacked so high it required a little smushing to eat it. There's a note on the menu that all burgers are cooked well done. I like to order mine medium well, so that was fine by me. It was certainly juicy and didn't taste overcooked.
My companion ordered the baked Italian chicken breast sandwich ($5.50), which was coated with what tasted like a commercial seasoning mix and served on the same great bun with lettuce, tomatoes and mayonnaise.
Sandwiches come a la carte, which invites customers to choose something other than french fries, like jalapeno or broccoli poppers, onion rings, fried mushrooms, fried cauliflower, fried cheese curds or mozzarella sticks.
We went with the cheese curds ($5.25), which had a thick breading and were rather standard. But with cheese curds, there's nothing wrong with standard. The coleslaw ($1) was dotted with celery seeds and had a unique, delightful taste.
Spartan Pizza — named for the town's high school team — has a cute brick exterior with cedar shake shingles. Inside, it's a typical small town Wisconsin tavern with rec room paneling. The eight cozy booths have mirrors above them and the walls host Miller Lite and High Life posters thanking local emergency workers. There's a back room used mainly for bigger crowds on weekends.
The only drawback of the place is that a small amount of cigarette smoke wafts in from a neighboring bar area, something that you don't experience anymore in Madison. However, a sign notes that the business plans to go smoke-free on March 1, 2010.
Spartan Pizza
3 stars
Notes: Street parking; wheelchair accessible; personal checks accepted; no delivery.
Posted in Restaurants on Wednesday, February 24, 2010